Have I mentioned that I have an assistant? She's actually the office assistant, but I'm her direct supervisor and she tewtelly calls herself my assistant to other people. And she's great, too. Like, smart and helpful and a really hard worker – I wish I was more impressive so that I could give her meaningful letters of recommendation or something. She's really great.  So.
One day she said she was going to Starbucks; did I want anything? Sure, I said. A grande skim latte, please. I gave her five bucks.  She came back like half an hour later.  Turns out, she had actually been going to a different coffee shop after all and only using "Starbucks" as shorthand, like "Coke" or "Xerox" or "Kleenex," but she wasn't sure that this other place had lattes (apparently she didn't know what they were?) so she'd gone to BOTH places!  And she didn't know how I took it, so she brought me an envelope of sugar and an envelope of raw sugar and an envelop of Equal and an envelope of Sweet-n-Low.  And a napkin and a little cardboard sleeve.
IT WAS AWESOME.
Though now I kind of want to ASK her to do it sometimes, and I just couldn't possibly.  But I wish she'd offer every day!!  Next time she does it, I'll give her a ten and tell her to get something for herself, too!  Oh, god, is that too douchey??  Oh, I'm mad with non-secretarial power!!!
Also, last night, Ian made this: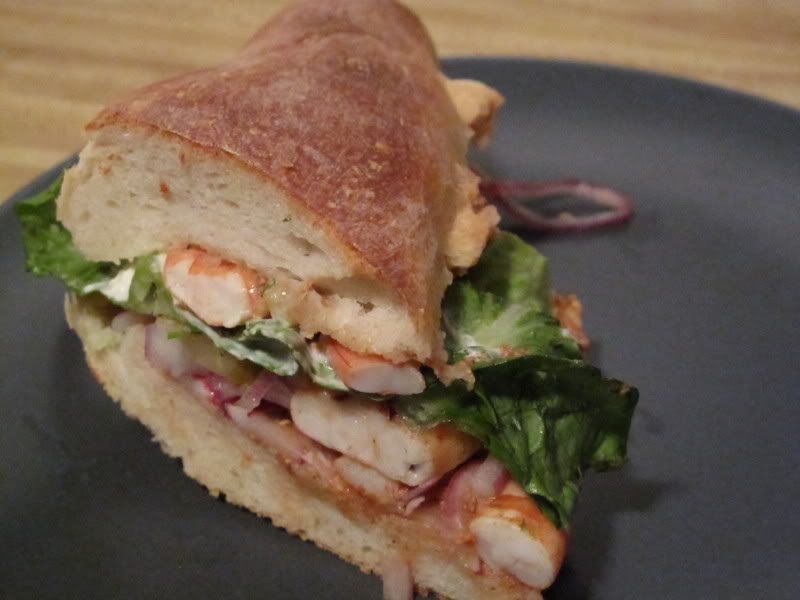 It's sort of a shrimp po'boy, on fresh homemade bread, with this, like, pickled-onion-and-peppers slaw. It was so mind-bogglingly delicious that Ian informed me halfway through the meal that I had to take a picture because "this sandwich should be remembered." So here it is. Truly, a sandwich for the ages.
<ian> The deliciousness of this sandwich was karmic balance from my bread not rising yesterday.  If you're interested, the recipe is as follows. Shrimp: marinated and cooked in hot sauce, pickled pepper brine, coriander, cumin, s+p.  Pickled pepper and red onion slaw: mixed with salt and allowed to sit for an hour or so to get a quick pickle going on the onion slices.  Bread: still steaming out of the oven, slathered in the leftover hot sauce mixture from the shrimp, mayo, thin radish slices, and romaine lettuce.  NOMNOMNOM.  </ian>