Okay, so, here were things I gave:
This is a really awful photo, both of Ian and the scarf, but this was supposed to be Jay McCarroll's scarf from the final runway show of Project Runway, for Ian's little sister: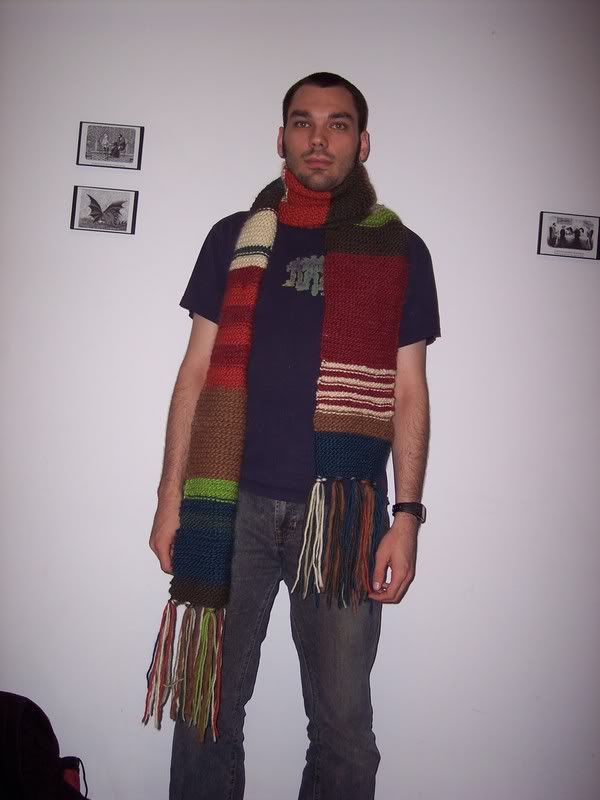 I think she pretty genuinely liked it. It's just garter stitch, over and over and over and over, and it took me like three months to complete because, #1, it's the single most boring thing in the whole entire world, and also, #2, the longest. I do think it turned out pretty neat looking, though. a little rough and raggedy around the color changes, but still cool.
Knucks for Shena:
Kinda weirdly poofy, and all of the fingers are of slightly different and totally random lengths that have nothing to do with the actual length of human fingers…but she SAID she liked them. And I will choose to believe her.
And finally:
The Bzzz Queen Bee Hat from S&B (Nation, I think?), for my madre. Finding and buying buttons was a bit of an ordeal – first I couldn't find them, then I found one set on ebay but then later on realized that they weren't real BUTTONS, but instead just plastic bees with flat backs for, like, scrapbooking or something, finally found some others in the city (at P&S Yarns, in case anybody else is looking – nice and cheap, too – much cheaper than the ones on ebay), and then received the ebay ones in the mail finally and found out that they WERE real buttons. So there's like 16 buttons on this thing, of two different types. I think it only makes it cuter. I think my mom will like it very much. It did turn out sort of weirdly loose-ish. Like, it's not actually too big, or anything, but I think it was maybe designed on purpose to be slightly too big so that all of the weird horizontal ribbing stuff would tighten up and it would still fit in the end? Or maybe that's totally wrong, but somehow it just feels a little loose, even though it actually fits and looks perfectly right.
But so those are the things I made. Also a really awesome set of knitted felted bowls for Ian's mom, which I guess I didn't photograph. Lion's Brand, in these nice warm rustic reds and greens and browns. She didn't say anything, so I'm frankly a bit worried, but when I gave them to her, I was sure she'd love them. But whatevs. Also a pair of black wristwarmers, which I guess I also didn't photograph, for a friend at work, which, incidentally, contained my very first-ever attempt at cables, which were super-easy (though actually I DID accidentally work the pattern upside-down, so it ended up looking less like a braid than like a weird twist that got interrupted and re-started at like these regular intervals), but which I'm STILL not totally convinced aren't just plain ugly. Cables, that is, not my wristwarmers, which were made of this really really nice cashmere-like dark black merino wool and which were really sort of classy and nice and which I wanted to keep for myself. I INTENDED to knit/crochet/make much, much more but, well. You know.
I also gave to two different new knitter friends these totally fucking AWESOME tiny little stitch markers (they're sheep – get it? and there are three white sheep and one black sheep – get it??? oh fuck that's so cute I can barely even stand it.), but I don't think either of them really appreciated them. One of these two is already probably pretty much advanced past the need for stitch markers, and the other has not advanced enough yet to know what they are or what they're for. Le sigh. Fuck it, though. They're still cute. Also gave away two copies of S&B, and received a copy of the S&B crocheting book in return. An orgy of Stoller!!! (Mmm…dirty.) (And also, I never said I don't think, but I totally saw Stoller recently and was all shy and star-struck. She was at the Bustacular craft fair thing in Brooklyn, handing out copies of the latest issue of Bust [which I already had, but took anyway, because I was too shy to say so]. I wanted to say something to her, but was far too cheesy and lame to do it. Yay!) And also a copy of the Yarn Harlot book, which I haven't even started to pretend to read yet. Alas, poor Infinite Jest, I just recently passed the point where I stopped reading you last time, and it's not looking so good for you once again. And I think that's all, crafty-wise.
Phew! Merry Xmas! Whee!
Tags: knitting, merry xmas