Dear Internet,
HOW THE FUCK DOES THIS BELT WORK???
I don't fucking get it. What is happening??? There are too many straps and no place to put them and none of the holes line up? That may or may not be what she said? See, I don't even KNOW anymore!!
Okay. I bought this online. It's a Y-3 by Adidas belt. (I think it's called the "rollup belt," which I guess may be a clue, but ONE I DO NOT GET, and knowing that name also does not help me google photos of it being modeled correctly, so.) I got a large, mostly because of this guy (in the story at the very bottom there), which, fine, I guess might be a giant majority of the problem here. But…also, maybe not, because Friends? My hips. They are happening. I admit this, to you, my Internet Friends. Do not tell anyone else.
But so, okay, maybe I should have gotten a medium, but there's no fucking way my hips are a small, and this belt is off by I think more than a single size. Shit just literally does not line up. The smallest hole does not line up with the first metal thing.
And even if it did, that means that this metal loop is COOOOONSTANTLY tinking against it, with every fucking step you take, over and over, and it's VERY annoying, and so that makes me think that this is too great a design flaw, and therefore is not the correct way to wear this belt?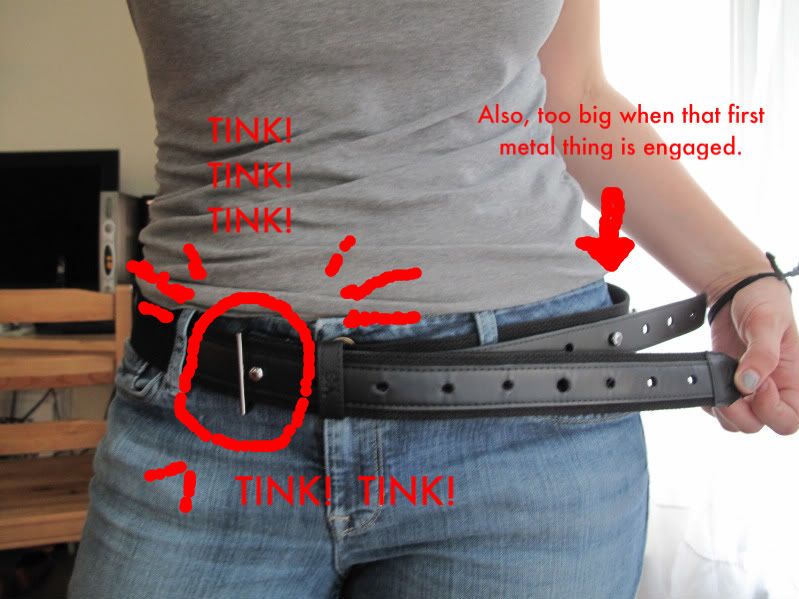 And then also the next two metal things do not line up with ANY given holes, on either belt end. If I want it to fit, I have to all wonkify it. I don't know.
But so presumably this is a wonky belt and is meant to be worn oddly? But…how?? I tend to wear it sort of like this (though I suspect I re-do it differently every damn time I pee, which, also, seems to be another design flaw, because taking this belt off TAKES FOREVER so how do you peeeeeeeeeee which maybe means I am doing it wrong again), with one strap sort of wrapped over or under the other, and I just adjust those last two silver things to whichever holes they will fit with, and I don't use the very first silver hole at ALL, which surely isn't right, and I use the leather loop but not the metal loop. Which also, whatever.
But I tend to suspect that maybe there's something like this that should happen?
I mean, not THAT, presumably, because that looks stupid? But something like that? Where one of the ends hoops up and loops in somewhere else? Maybe on the first metal thing? In fact…is that is? Does one loop go back, and maybe use either the leather or metal loop, whichever is not already in use, and then hook onto the first metal thing?
And really, the only question left there is: god, WHY?
Anyway. I totally like this belt. It looks all rock and roll on me. Take that, belt. You cannot defeat me. I will wear you. It's very rock and roll to wear belts incorrectly.
Also, this:
There are NO articles about puppies in this magazine. None. That's true.
Tags: dear internet, Pretty Clothes