In the beginning, before the Shogun were dominating Japan, the Overlords were dominating women with Fierce Intensity during sexual intercourse. This intensity was spoken under cover for years among women who craved multiple orgasms, men with endurance of machine and an Iron Beam between their legs.
The Overlords had discovered the seceret of Fierce Intensity and kept this to themselves for years as they fulfilled the carnal desires of all the local women. They knew if this secret was ever discovered, all men would be created equal. They entrusted this formula to a young powerful Overlord…Stree.
Stree was a tiger of a man with a body built in the Gods image. Women melted when they saw him in the streets. Stree had a reputation with the ladies as they all knew he possessed the sexual secret of the Overlords. Once he dominated a woman in the bedroom, she morphed into a crazy woman, craving ever more of his sexual steel. The stamina of a horse and the endurance of a machine kept Stree a favorite among the wives of other men.
Eventually, the men who couldn't keep their women happy, grew enraged with Stree. His Overlord secret was no longer safe. Stree fled his homeland and traveled South to new lands, safer lands. Unfortunately, this was not the case, as his reputation had preceded him as woman all over Japan craved his Fierce Intensity!
And in the night, they attacked!!! *
That's right. It's a food blog.
With special guest stars:
Dr Chris and the Iman
Larry The Very Evil Quaker Oats Guy
50 Cent
and introducing:
Chun-Li's Boner Knee **
We had a whole range of disgusting and/or dangerous things to try: Cock flavored soup, a variety pack of instant repulsively flavored grits, a mixed six-pack of Sippin Syrup, a couple of Street King shots, and…and Stree Overlord bodega boner pills. There was some talk, too, of trying the Dorito-shelled tacos at Taco Bell, but we somehow couldn't find a Taco Bell in Brooklyn. Or this was our excuse, anyway.
All of this was Chris's idea. Blame him.
Now, listen. I took notes at the time. They are…mostly unintelligible, though pretty well time-stamped. I will include them where possible, though…they are not vast amounts of help, frankly.
We wanted to keep it scientific. Of course. To that end, I was the upper tester: Street King and Stree Overlord, Isley (because even having chocolate past 5pm keeps him up) was the downer tester: far too much Sippin Syrup, and Chris was the control group: ALL THE THINGS. (That's how science works, right?)
Street King tastes like…you know. An energy shot or whatever.
BUT IT MAKES YOU HARD AS THE STREETS.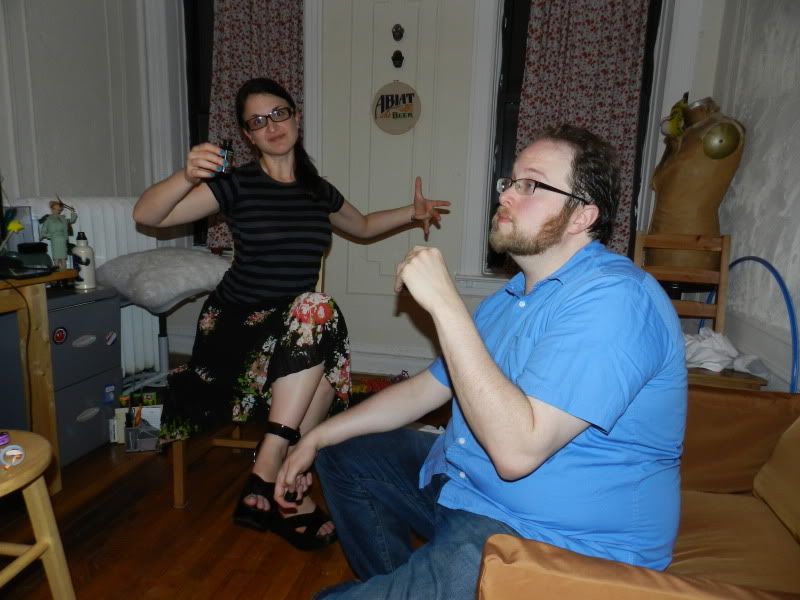 Deepak knows how it is.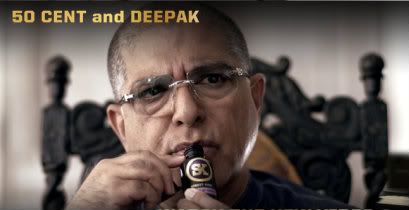 Sippin Syrup came in an amazing range of Barbie neon colors and confusing flavor names. I guess I didn't get photos of all of them, but imagine you melted a bunch of Skittles and then mixed them with uranium, I guess?
9:19pm, Sippin Syrup flavor "Purple" (grape)
Chris: "It tastes like grape drink, with a little bit of cough syrup after taste."
Isley: "I'm basically going to pass out right now."
Chris: "I've had this one before, and it's a good baseline sizzurp."
Isley: "I'm worried that all this sizzurp is going to keep me up."
Jessica: "It tastes exactly like Kool-Aid. That's all." (Okay, fine, I had one sip, I'm a bad scientist.)
9:29, Sippin Syrup flavor "Mellin," maybe? (I have it down in my notes as "mango," though the website says that there is no mango flavor…?)
Chris: "What this one tastes like, is, it tastes like Shena's mom…"
[long pause]
"…it's these little Asian jelly fruit things…like a tiny rounded-bottom pudding cup, like a fruit gelatin thing?"
Isley: "I'm not gonna lie, I feel a little relaxed right now."
Chris: "I feel perfectly level right now. I've had a little sizzurp, a little Street King."
9:40pm – actual direct unedited quote from that night's notes:
c: do you want to try dr. seklect bnow? because i am a dr now.
j: wow. ic an't type. ni am the worst at typeing now.
I…had had some beers, too. Anyway. The Doctor's Select "Downtime R(x)elaxation" flavor was VERY BLUE.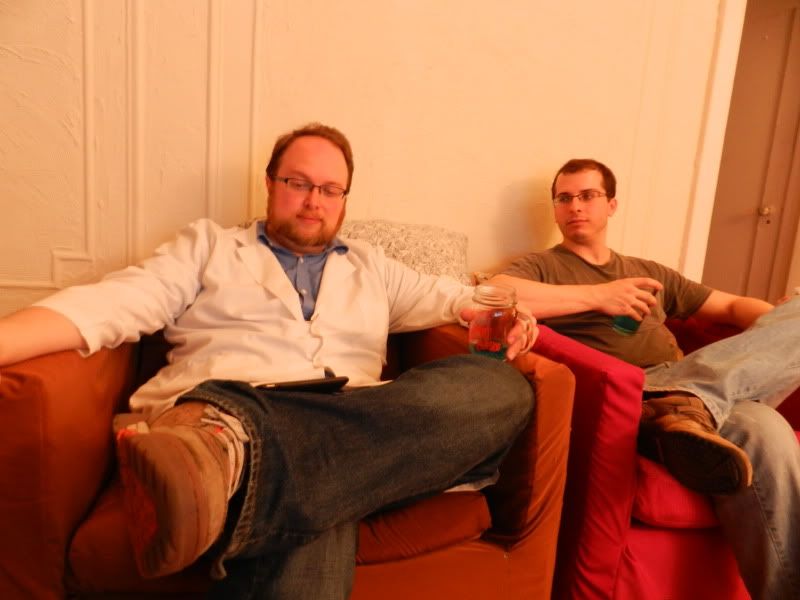 Isley: "It smells like SweetTarts, right?"
Chris: "Like blue SweetTarts."
Isley: "The cup really opens up the bouquet, right?"
[Chris was drinking out of a cup that he had stolen from a church. "Is it moral to steal from a church, if it's for Christmas?" he asked.]
C: "It's blue raspberry Four Loko, is what it is."
And while they were drinking the Doctor's Select, I decided it was time for boner pills! Because that's a good idea. (Interesting side-story: I bought boner pills in a bodega with Chris by my side. The check-out guy had to keep pointing at boxes behind the counter and asking, "These boner pills? These boner pills? These boner pills?" as I kept replying, "No, the boner pills to the left…no, the boner pills below those boner pills…." ***)
These boner pills were hot pink **** and had Chinese writing all over them. That's okay for a pill, right? That's the way pills are supposed to be?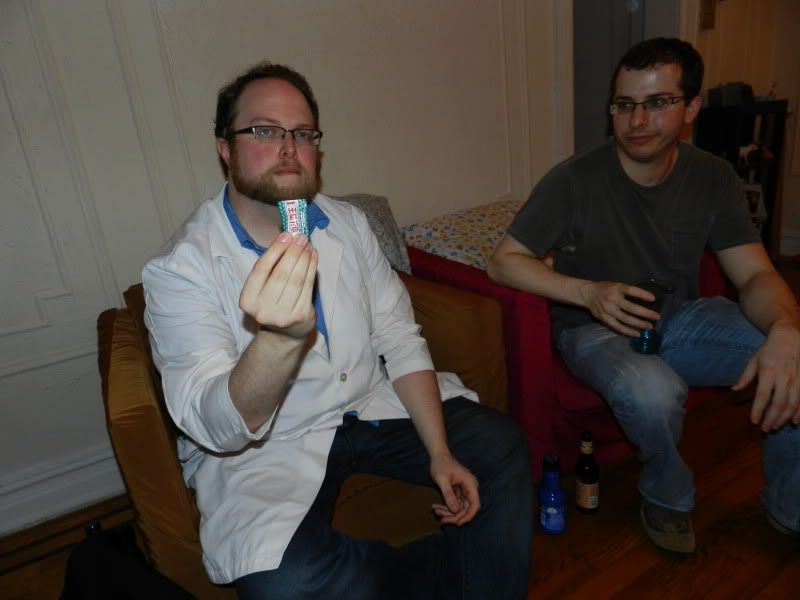 I literally do not know what is in them. All of the writing on the box was in Chinese. That…can't be legal, right? The box said to take them 20 minutes before boning (in English!), so I knew that by the time 10pm hit, we'd be in for it. To prepare, we fired up the Cock Flavored Soup.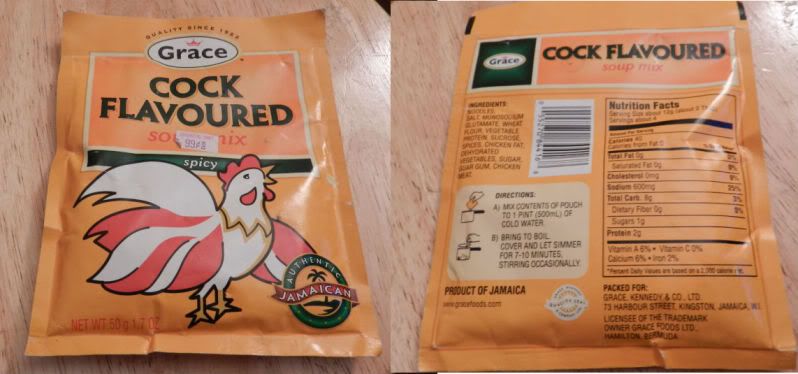 The literal second ingredient in cock soup is salt.  Isley's hippy-ass was even more concerned that the third ingredient was MSG.
Chris: "I think my dad bought this during the Clinton administration."
Isley: "This isn't bad!"
Chris: "This is actually not bad."
Isley: "I'm really relaxed, you guys. Like, slightly woozy."
9:59pm – a moment of weakness
Jessica: "I'm gonna take a second boner pill."
Chris: "Really?"
Jessica: "I don't get a second drink!"
Chris: "Don't take a second boner pill."
Isley: "Don't take a second boner pill."
Then Isley told a story about the time his dad took a second hit of strong acid before he realized that the first hit had been coated in gelatin (for some reason?) and just hadn't kicked in yet.  I don't know. I didn't take a second boner pill.
10:06pm – Sippin Syrup flavor "Kandy" (cotton candy)
Jessica: "I bet Kandy is pink."
It was!
Isley: "It tastes like marshmallows."
Chris: "Marshmallows and cotton candy."
Isley: "And not something I would drink a whole bottle of, ever."
Chris: "What is that other flavor after?"
Isley: "Notes of oak and corn syrup, I believe?"
Chris: "Just corn syrup."
Isley: "Oak and corn syrup."
10:14pm – another moment of weakness
Jessica: "Can I have a second boner pill?"
Chris: "When they came for the first boner pill, I did nothing…."
Isley: "My dad had to plow an entire field while tripping balls! Don't do it!"
I didn't do it.
So which was the best Sippin Syrup of the four?
Isley: "Grape was best, the worst is Doctor's Select."
Chris: "On behalf of all doctors, I apologize."
Isley: "Also, I keep eating the cock soup, and we're past the part where we HAVE to eat it, so, Isley hearts cock."
Chris: "If I hadn't left mine in the kitchen, I might, too."
Isley: "It's salty and delcious."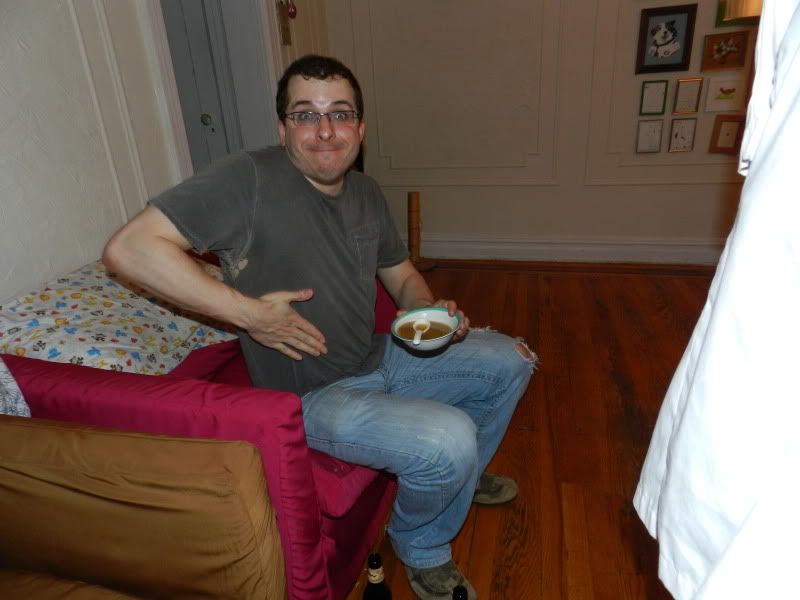 BUT GRITS!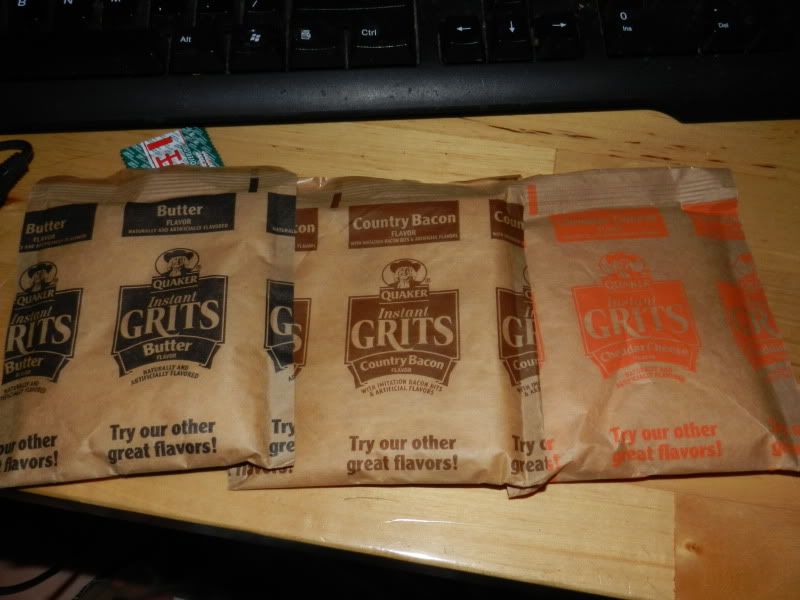 Oh god.
Grits.
The grits were not good.
I don't think real doctors are supposed to laugh at you so much when you're in so much pain. I think that photo was of the butter flavor. The butter flavor was pretty much the single worst thing I've ever put in my mouth in my life. It smelled like butter and tasted like baby oil. There was also bacon, which smelled like bacon and tasted like potting soil.  Isley claimed that one was the worst.  He made this:
Cheddar cheese was the best of the three, because it smelled like cheddar cheese and tasted like fake cheddar cheese. (Chris, for the record, agreed with me that butter was the worst.)
At some point, Chris went to the bathroom, and when he came back, he said that he had asparagus pee. At some point, I fell asleep on the chair and flashed everybody my underpants. (Accidentally!) At some point, Isley finished all the cock soup. At some point, Isley also pointed out that we shouldn't be drinking beer and kava-kava (a key ingredient in Sippin Syrup, I guess?) at the same time. He said he'd heard that from his sister and texted her to make sure.  He got a very stern reply warning against liver damage.  I still have no idea what kava-kava is.  At some point, after I'd stopped taking…such careful notes?…I had a third moment of weakness:
Jessica: "I'm going to just eat the rest of the cheese grits."
Chris: "I'm about 90% sure that's a better idea than having another Stree Overlord."
Isley: "My dad didn't say anything about cheese grits."
I don't…know if there are any solid conclusions to take from this very scientific taste test. I guess…don't take more than one Stree Overlord. Don't eat flavored instant grits. Slow your roll. Stay strong. Take a nap.
EDIT:
Someone pointed out to me that I never actually gave any final analysis for the boner pills. Um…I think they did nothing? (I'm pretty sure I could have taken a second one.) Or at least they did nothing when mixed with Street King and like four beers. Though Isley says that at some point in the night I mumbled that I "felt funny" and that's when I passed out on the chair and showed everyone my underwear, soooo…? Maybe we should ask Chris what the boner pills did, as he has more of the proper equipment for analysis than I do.
* Isley, rollin' on syrup, attempted to record the story of Stree Overlord on his phone.  He talked for a long time. He recited I think the entire story. This is the recording that he ended up with:
Audio clip: Adobe Flash Player (version 9 or above) is required to play this audio clip. Download the latest version here. You also need to have JavaScript enabled in your browser.
** Photobucket deleted that picture for violating their terms of use. I had to upload it somewhere else.
*** Paraphrasing.
**** Chris wants to argue that they were actually "safety orange," not hot pink. We do have two left, so I could just open up the packaging and check, but…I don't really want to expose any more of them to the light. It's like feeding them after midnight, or something. You just…probably shouldn't do it.