I like buying old, cheesy-looking paperback versions of books. It's sort of exactly why I am morally or emotionally comfortable with the notion of an e-reader: I collect real paper books because they're cool-looking, but I don't feel any particular need to "collect," say, Bossypants, or whatever. Anyway – I tend to read these books into oblivion, though. I like dog-earring pages to mark the good words and lines and ideas, and I carry books in my purse or my pocket, and I hold them with one hand on the subway. They get bent and torn and manhandled and rough housed and the covers fall off and chunks of pages fall out. I mostly don't mind this. I feel small pangs of guilt, maybe, but it's also bragging, too: "I read this book." That kind of thing.
So. This book was flipping awesome!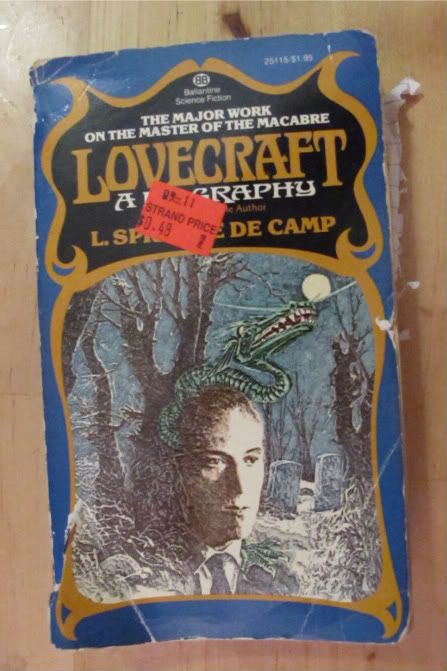 I got it at the Strand for 48 cents!! I only half-assumed I'd ever read it, but I started it on the way home or whatever and got fantastically, magically hooked. The author is…god, crazy? or amazing, at least. He keeps writing these lines that are sort of awkwardly inserted unsupported opinion? Or, personal experience in weird, revealing ways? Like, "Lovecraft probably wasn't actually suicidal; most authors go through periods of the blues following strings of rejection," or, "Lovecraft himself thought that Poe was a better poet than he was, but Lovecraft was obviously the far superior writer." Also he keeps very awkwardly acknowledging and then apologising for Lovecraft's massive racism: "Srsly, guyz, lots of totally intelligent people felt the way he did (or, like, at least they did like 20 years earlier)." He goes off on weird historical tangents, where he gives us the histories of other writers or Rhode Islanders or astronomers, or of the amateur journalism movement, or of Aryanism, or of the history of academic research into the sorting and categorising of race (yeah…there's…lots of race stuff in there). He sort of subtly snipes at the keepers of Lovecraft's letters and other primary sources for not giving him enough access. He also claims that Lovecraft wasn't allergic to poison ivy, was born with inherited syphilis, and probably totally wasn't gay, so quit asking about it already, okay?!
Anyway, it's brilliant. Look how much I dog-eared it!
I also got these, because, embarrassingly enough, Stephen King says they're good?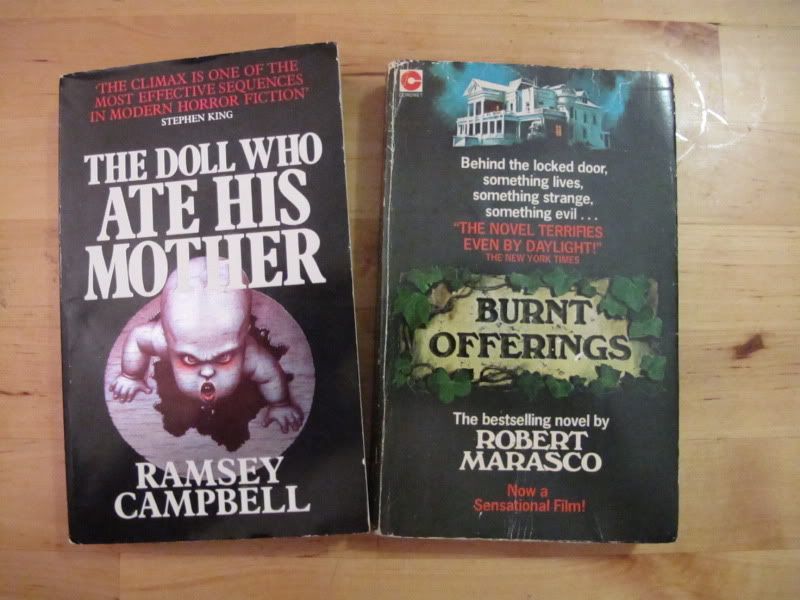 That title! So motherfucking brilliant. I will never write a title that good. And, I couldn't help it:
Now that I'm on public transportation again (An hour and a half commute each way! 3 hours a day! 15 hours a week! 60 hours a month! 720 hours a year! That's THREE MONTHS' worth of days of extra work a year!) maybe I should re-start my long-ago-abandoned ABIAT feature "100 Words or Fewer While On the Clock?"
Room, by Emma Donoghue, in 100 words or fewer, while not on the clock:
I was kind of embarrassed to be caught reading this book on the subway. It's sort of airport-y? Like, mothers of teenage girls buy this book in airport bookstores and then don't finish it ever? And it seemed insanely exploitative and super dirty and kind of just mean. (And screw you to all the reviews and reviewers that call this "original," because, gross.) But…I basically enjoyed reading it. There was an exciting part. It was interesting. I kept wanting to see what happened next. That's a decent handful of the number of checkmarks you need for a "good" book, I guess.

AND OKAY HOOOOOOLD ON, a Note From the Editor:
I wrote all that like four days ago, and I just the other day now got a nook as a gift! Whaaaaa! So, yeah, neat. 100 Words or Fewer While On the Clock is totally back on!
And okay but SECOND NOTE:
I just noticed that back the first time I used to write "100 Words or Fewer While On the Clocks," I didn't capitalise the word "on," but now I do. Thoughts, gentlemen?