We are pleased to present…
Jessica's Very Interesting Sick Day Movie Marathon Review!!!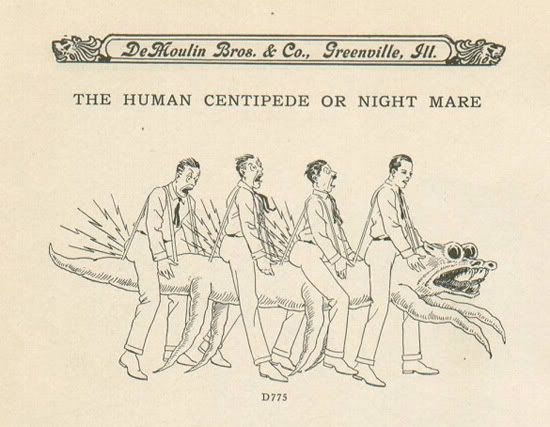 Let's get started.
The Human Centipede
Goddamn, that's an ugly fucking movie, says the girl who really likes trying to guess what the guts in zombie movies are made of, when she watches them getting eaten. I want to say that there was seriously absolutely nothing of worth at all in this movie, but…goddamnit, the premise is so fucking WEIRD that you can't deny it, right? Or maybe you can. If the only redeeming thing about this movie is its astouncing premise, then they should have at least done something with it, other than just, "Here's a diagram. Now we're doing that, except with girls who aren't wearing shirts. Eh? EH??" Though I suppose, to their credit, the boobies were certainly not the focus of this movie. So there. That's two things this movie has going for it: the premise, and they didn't focus too much on boobies. Though they did focus quite a bit on the misogyny in every other conceivable way possible. Man, this movie didn't like ladies. I just don't even want to enumerate all the ways in which this movie was bad. Or ugly. And those are two different things. It was both of them: bad and ugly. It was also presumably some sort of crass WWII…metaphor, or commentary, or…something? Right? It was gross in more than just the obvious ways.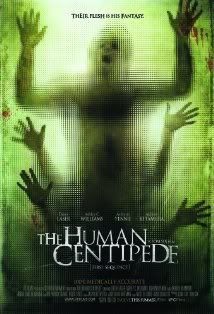 Also, you know what? And this pissed me off way, way more than anything else? It didn't make any damn sense! And it certainly easily could have! So there's person A, B, and C. The mad doctor pulls the front six or so teeth of persons B and C, cuts their lips off, and slices a big wedge up their cheeks. He cuts out the sphincter or whatever of persons A and B and cuts big corresponding wedge-flaps in their butt cheeks, and he sews everybody together. THERE ARE SO MANY PROBLEMS WITH THIS. Infection (from the poop bacteria, in your open lip wounds, your open butt wounds, your recently pulled teeth), blood incompatibility and tissue rejection (he didn't test any of them for this), the total superfluousness of the big cut-out jig-saw-y wings on the butts and faces, but mostly it's that once poop comes out of you, it no longer has any nutrients in it. So it can't feed the person B, much less person C. But all you'd have to do to fix it is to wind person A's intestine straight through persons B and C and sew the end of it to C's butt, right? Like, actually stuff one single shared tube of intestine down B's throat and out B's butt and then down C's throat and out C's butt. I mean, C would still probably be getting fewer nutrients, but at least they wouldn't be eating poop made from poop, right? Man, this annoys me so much. A doctor should know this!!! He's a doctor! Poop is not nutritious!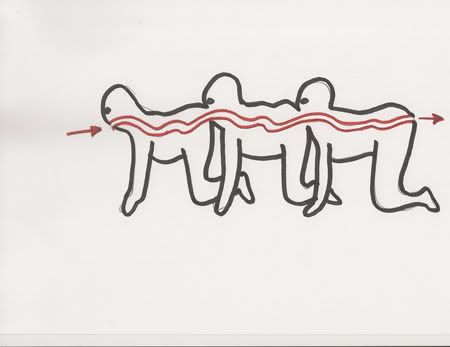 And…um…ps for those of you who haven't seen this movie or whatever…that photo up there is FROM the movie. It's not like I just sat down and drew up that helpful diagram in order to bolster my argument, or anything. I realize how weird that would be. I…kind of want to erase all of this from my blog, now, suddenly.
Also, you know what? If you are three people sewn together, and it's really terrible, and you're trying really hard to escape, and one of you is dying, and one of you is suicidal? JUST PULL. Pull. You're stitched together via butt-flap. JUST PULL. It'll hurt, but probably not more than, you know, BEING SEWN TOGETHER VIA BUTT-FLAP. There. There's your escape plan. YOU ARE WELCOME. (And dear crazy doctor, but here's some more advice: if you'd used one single intestine threaded through all three of them to begin with, then this wouldn't be an option for them. YOU ARE WELCOME, TOO.)
I still want to see the second one. Which may or may not be featuring a 12-person centipede.
The Princess and the Frog
I kept thinking it could have been BETTER. The songs could have been a little bit MORE, and the crazy-bananas-voodoo bits could have been a little bit COOLER. But I bawled and bawled and bawled and bawled over that firefly. Oh, Disney. And, you know, she had a job, and she worked really hard and didn't believe in wishing on stars, and ultimately, in the end, she wasn't really proven wrong. She DID get married and all, and to a prince and everything, and I guess she was willing to give up…well, an awful lot…for love. But not necessarily her job (as the trumpet-playing crocodile showed us, swamp creatures can have careers among the humans, too, so presumably, she still could have opened a…swamp…restaurant. For…frogs?). I don't care. I am officially pretending this was a feminist movie. Kind of. Damnit. Okay. It wasn't. But, oh, Evangeline, sniff sniff.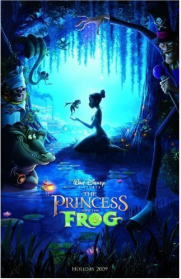 Audrey Rose
I think this was based on a VC Andrews novel. I fell asleep during it, so I'm not sure what happened. When I fell asleep, Anthony Hopkins had just shaved his beard, and when I woke up, he was repeating over and over, "Her soul is at peace. Her soul is at peace. It's at peace. Her soul is at peace. At peace." So I guess probably everything ended okay.
The Dead Hate the Living!
I wanted to like this, except it was stupid, so I turned it off. Best dvd cover art of the bunch, though.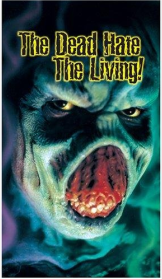 This wasn't the cover art I saw originally, but it has a funny quote from Tom Sevini on it, so here's this one, too:
Dead End
You know what? This was actually kind of good. Kind of reminded me of a long episode of The Twilight Zone. Kind of creepy, even, a couple times.
The poster is boring, though, so here's this, instead:
Mermaids
Awww.
Also, I want to look like every single member of that family. Except the guy.