Ahoy, Saccos. Ian here. As a counterpoint to the surprising display of unity that I saw outside of Notre Dame on Friday, I thought I'd post some pictures of something I saw a while ago that was downright riotous.
I showed up in the area adjacent to the Pompidou center at around 2 in the afternoon, and there was a huge crowd of people gathered, waiting to start a parade or a protest or something. This is not an unusual thing to see on the weekend in Paris, so I initially didn't pay much attention. As I wandered through the crowd, though, I realized that something was slightly different about this crowd. They were grumpier looking that the usual crowds, and most of them had on bandannas or some sort of mask to cover their faces. Then I noticed the black flags, and I realized they were anarchists!!!
Okay, so what? A bunch of Parisian anarchists assembled for a protest: big whoop. They'll probably just march around chanting like every other group of protesters I've seen. Indeed, this is what I thought… Until they started shooting off roman candles, lighting magnesium torches, and blowing air horns!!!
This video gives a better sense of how bright the torches were. They glitched out my camera.
I had no idea what the goal of the protest was, but I love fireworks, so I figured I would follow them around for a while and see what they were up to. Unfortunately (or probably, fortunately) they were slow to get going and a whole bunch of smoke accumulated in the plaza, so I wandered off to get some fresh air and wait for them to get properly moving. This is when I noticed the cops.
They were actually all over the place (there was a music festival slated to begin in a couple hours), but they seemed to be preparing for something specifically aimed at dealing with the anarchists. As much as I love fireworks, I am not a huge fan of being clubbed by riot cops, so I decided to hang back and not follow the anarchists directly. This was a good move.
About five minutes later, there were terrible, cacophonous noises coming from the direction of the parade. Helicopters showed up and started hovering over the route, and soon after the ambulances started coming. Groups of cops were running all over the place and putting themselves up in strategic barriers to contain the flow of people.
After things had calmed down, I walked over to the parade route to see what was up. There were lots of broken windows.
This slogan was all over the place. It says "77 rather than 68." There were riots and revolution in Paris in '68, but I don't know what happened in '77. I asked around a bit, and the people I asked had no idea what that meant, so probably whatever happened in '77 was only significant in anarchist circles.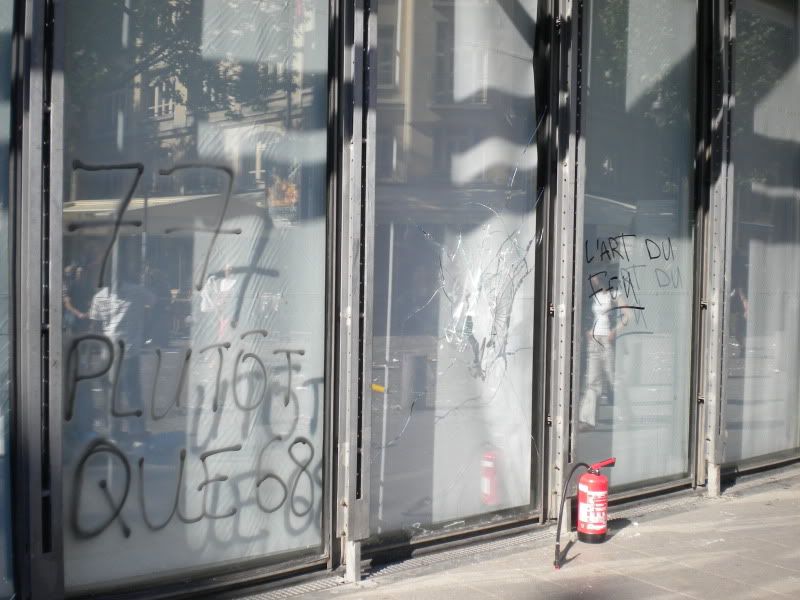 A couple stores had their doors smashed.
There were broken eggs and thrown-produce all over the place, which I think means that this is actually stained with tomatoes rather than blood. Maybe not, though.
Planters were broken and garbage cans overturned. Anarchy means that you litter.
That's about it for destruction. I watched a bunch of the anarchists in handcuffs getting loaded into police buses by plain-clothes cops who had been in the parade but were now wearing orange police arm bands. I guess this is how the cops combat the masks? Just have an undercover grab the offender and make the arrest. This strikes me as something that probably would have been much harder for the cops pre-internet. Back then they would have actually had to have undercovers in the groups in order to know the time and location of the marches, but now they can just read online and show up.
This has nothing to do with the anarchists, but it was in the same set of pictures on my camera, so I present it now. Enjoy.