You are currently browsing articles tagged kittehs.
This is a science blog!
In response to this, here are my cats doing science!
Please don't sue me, Oingo Boingo!
My cats eat out of bowls designed by Oscar de la Renta* now.
Why? Because they deserve it.**
Erwin wouldn't participate in the photoshoot, because he finds it all very bourgeoisie.
He kept running over and photobombing and pushing my hand and making the shots blurry. He was Occupying the Kitchen, or something? Protesting my conspicuous consumption?
*FOR TARGET. And I waited until they were on clearance!! (So calm down, Erwin, GEEZ.)
**Haha, no. It's because I'M A TERRIBLE FUCKING HUMAN BEING.
Tags: kittehs
The neighbor who always feeds the stray cats just fed the stray cats! They seem fine!
I'm totally decorating. Slowly.
Like! Yesterday I hung some pictures! And, technically, today I took them back down again. I'm pretty sure it's a start, though. So have I ever mentioned that I own two total actual technical real original Damien Hirst pieces? Super-legit true. I bought them from him on Twitter. He was selling stuff for whatever you wanted to pay him for it – like, not bidding, just – offering? I sort of didn't believe this at first? So I offered $20 for the first one. Then I realized I was dumb, and I offered $1 for the second one. Still, $21 for two Damien Hirsts is not bad?
Of course, they're ugly. I…don't like them. BUT THEY'RE DAMIEN HIRSTS!!! What am I supposed to do? Not hang them?? So I hung them in the bathroom.
Which frankly I thought actually looked really good, in addition to being kind of mean and funny. But I'm too poor to afford mats right now, so they're just all pressed up against the glass all naked, which I don't think is good for them in general, and also I was worried that the steam from the shower would eff them up, so – whatever. I took them down again. Grumble.
I am posting all of this (well – actually, I am posting all of this for two reasons: reason 1 is I want to brag that I OWN TWO DAMIEN HIRSTS, but reason 2 is) to ask if this is stupid? Can I keep these hung in a super-steamy little bathroom? Or will it destroy them? What about once I get them matted nicely? Will it make any difference? Can I hang them in a steamy room then, or still not?
Also, I made curtains! I got the fabric from Coney Island, where there's this whole little cluster of fabric stores that I guess are all geared toward Pakistani women, for making those colorful sari-type things they wear sometimes? Er…okay, and then I went to look them up to try to find a photo, and I guess there are a bunch of different kinds, but I think I'm thinking of shalwar kameez with the pants underneath or gharara with the second skirt underneath? AHH! But wait! Wikipedia claims those are pants, too!
Look at me, wide-eyed girl from Kansas learning all about other cultures in the big city, and their pants.
Anyway, blah blah – turns out you should TOTALLY GO SHOPPING FOR FABRIC IN THE PAKISTANI NEIGHBORHOOD next time. They have this amazingly soft cotton-ish stuff that is SO nice to touch, and comes in really pretty prints and really vibrant solids, and is megacheap. I asked the lady if it was cotton (it feels like really soft, high-quality cotton, like Liberty of London or something, except it's kind of sheer), and she said that no, they call it "linen" in their language. Or maybe she said "linea" or "linna" or something and I just heard it as "linen?" Anyway, I don't think it's linen. It's too even and clean and not nubbly the way linen is? Or, actually, I guess maybe it IS linen, in that linen is just the weave of the fabric and has nothing to do with its content? So maybe it's, like, polyester linen or hemp linen or something, and I'm used to cotton linen? Anybody out there know what "linen" means in Urdu or whatever? (Whoa. I have officially typed the word "linen" often enough that it looks weird and I'm pretty sure it's misspelled now. Linen linen linen.)
Anyway. Super-soft, super-pretty fabric for $4 a yard, crazy-cheap. (And plus the first guy I bought some from said that I had a good eye and asked me if I was a fashion designer and I got all stammer-y and giggly and eventually said no, which I have just GOT TO REMEMBER NOT TO DO – when the waiter asks you if you're a food journalist, or when the fabric store owner asks you if you're a fashion designer, or when the wholesaler asks you if you own a shop, THE ANSWER IS ALWAYS YES.)
So!
Curtains!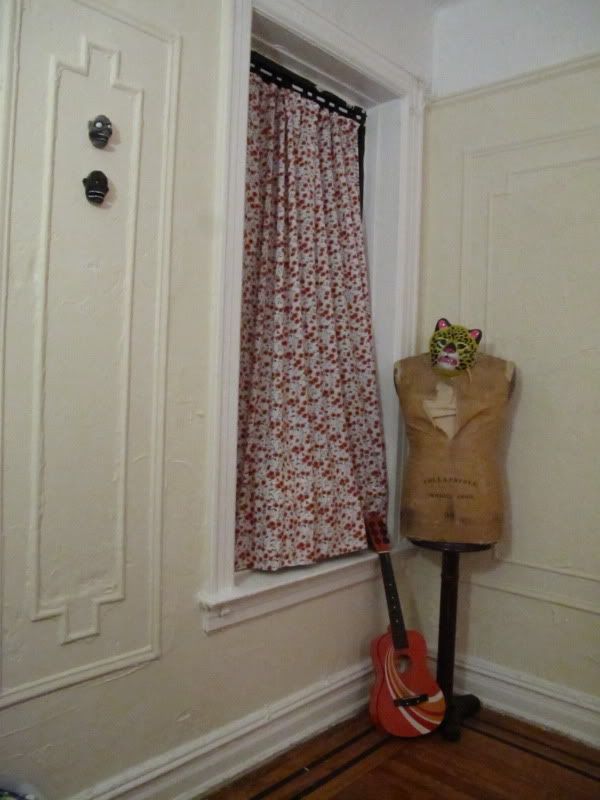 Yes, thank you, that randomly leaning guitar and the thumbtacked-up plastic monster heads ARE the extent of my interior decorating skills. There are new curtains in the bedroom, too, same shape and all, but in a super-pretty greigey-lavender color, sort of "glans pink," if you will. And eventually I'll get some up in the kitchen, too, but damn, these take longer to make than you'd think for just a couple of straight hems, so…later. But I was on a kick so I also made new pillow covers for my cats' pillows (my cats have pillows; what?), made of, coincidentally-ish, old curtains.
And also one made of fur, which my cats refuse to sit on, so I am using a clever model stand-in for display purposes.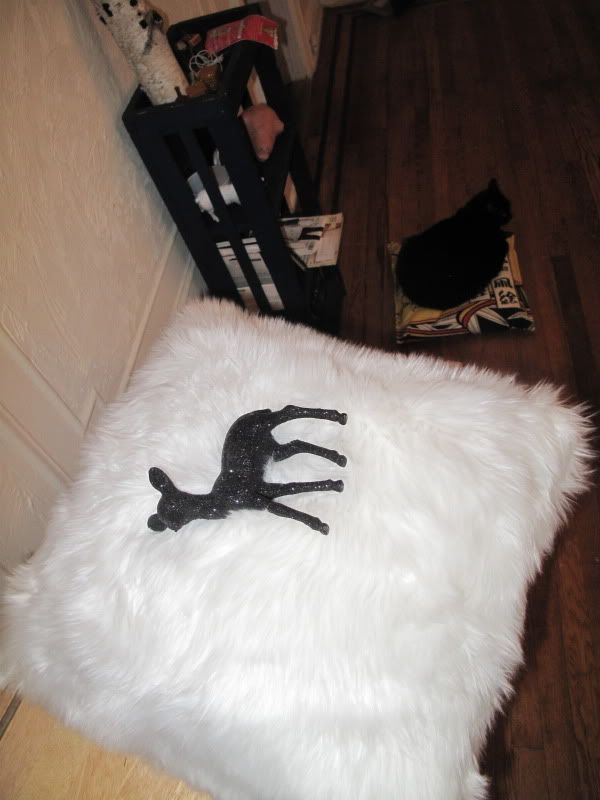 Oh hai I moved.
DIGBY HATES MOVING.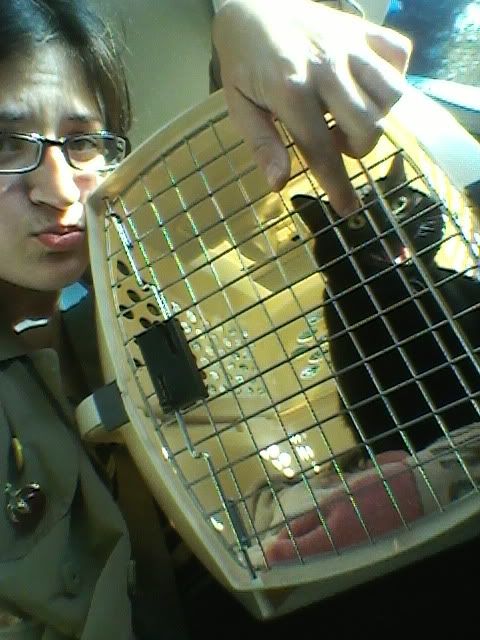 Her mouth is open in these photos because she WOULD NOT STOP MEOWING PATHETICALLY for the entire 4-hour drive from Providence to NYC. Erwin, on the other hand, was so quiet it was kind of scary. Here they are once I got them to the new place:
They didn't travel like that or anything – they just decided to huddle pathetically together in the same tiny travel-crate out of pure terror that first night. Then they hid under the covers on the bed for the next day or so.
My very first dinner party at my new place: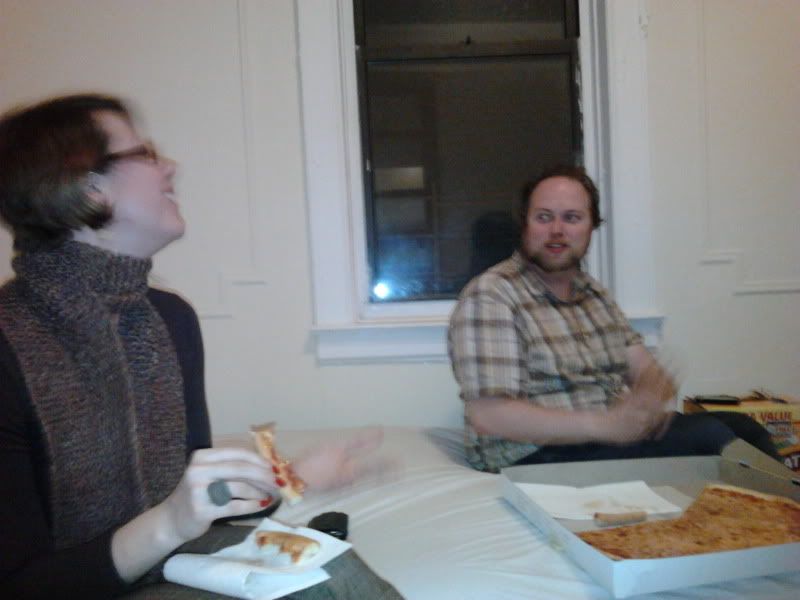 Fancy! I totally made Chris go get that pizza for us, too. I am not very nice to my helping-me-move friends.
My bathroom ceiling was leaking spectacularly for the first couple days. It was such a fight to get the leak fixed that I don't even want to bother trying to get the water stain repainted or whatever now. I am still missing a cabinet door in the kitchen, so that room hasn't been unpacked at all yet. The cats have become basically un-terrified enough, sort of? I was talking about how I want a big goofy area rug, like, shag or hide or fur or something, and Meredith suggested one of these. I feel like this is…makeable? Right? And, frankly, a bear head taxidermy form is even CHEAPER than a goofy little shag area rug at Target, anyway. So. Maybe that's coming?
This is what my fridge looked like for about three days: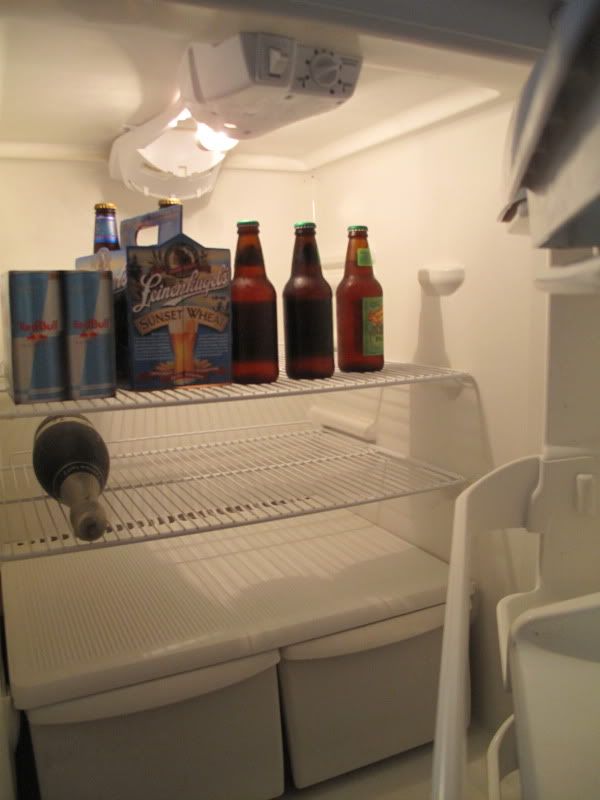 But I live by a circus-themed grocery store (!) so eventually I got some actual food, too.
So all in all, things are going well! Yay BK and all that. (It SNOWED today!!)
Tags: kittehs, new york city
I grew these tomatoes! These are my tomatoes!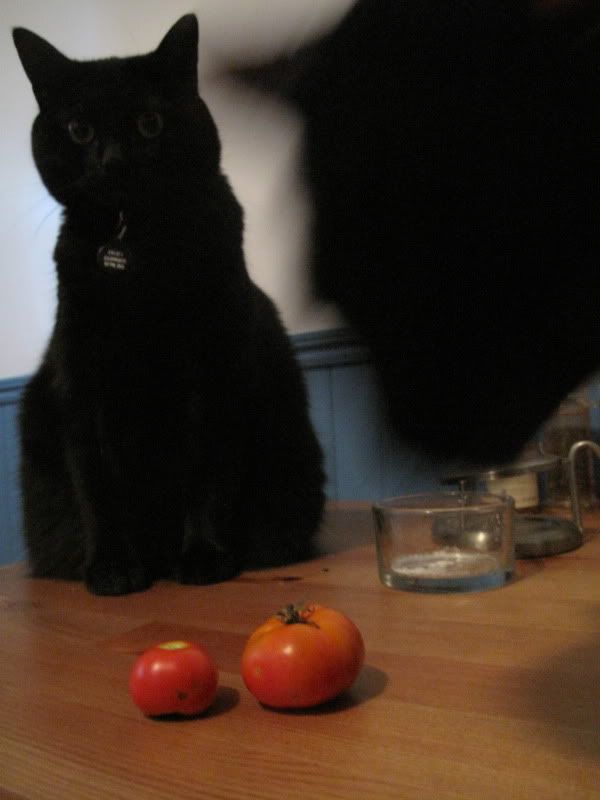 They're tiny (like you can't really tell, perspective-wise, but they're about ping-pong ball-sized, or smaller) and all the rest are still green and most of my plant stems broke in a windy storm last week. BUT I MADE THESE TWO TOMATOES! And they tasted delicious.
Tags: kittehs
Battle of the cute! Erwin and Digby vs my new friend/coworker/neighbor's cat (who is a kitten and also black and named Lydia because "it sounds kind of spooky").
This was sort of an accidental meeting at the very beginning of the visit, before anyone had actually smelled anyone else and relized that EVERYONE ELSE WAS A TERRIFYING HORRIBLE STRANGER!!!!!!! Immediatelty after this, everyone hissed, Lydia ran back into the box, and re-contact very very very slowly approached not-quite-ever-this-close-again.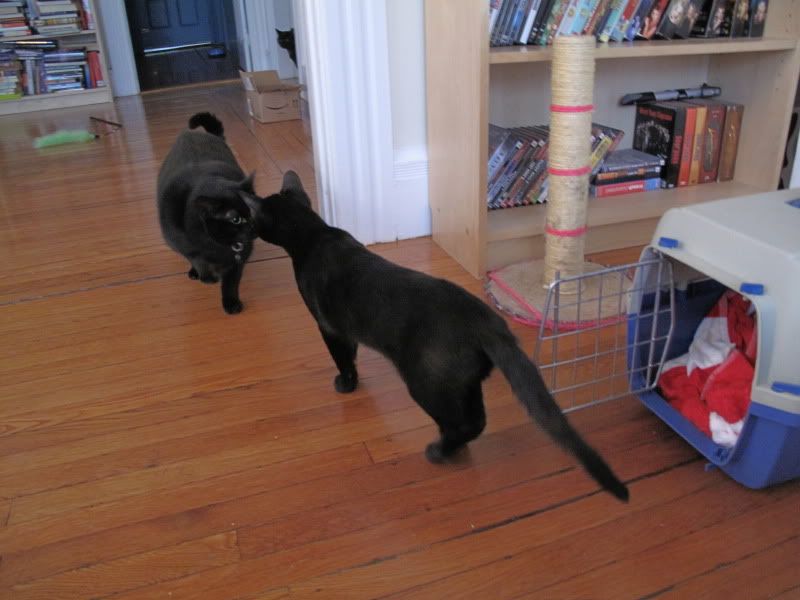 Who won? I won.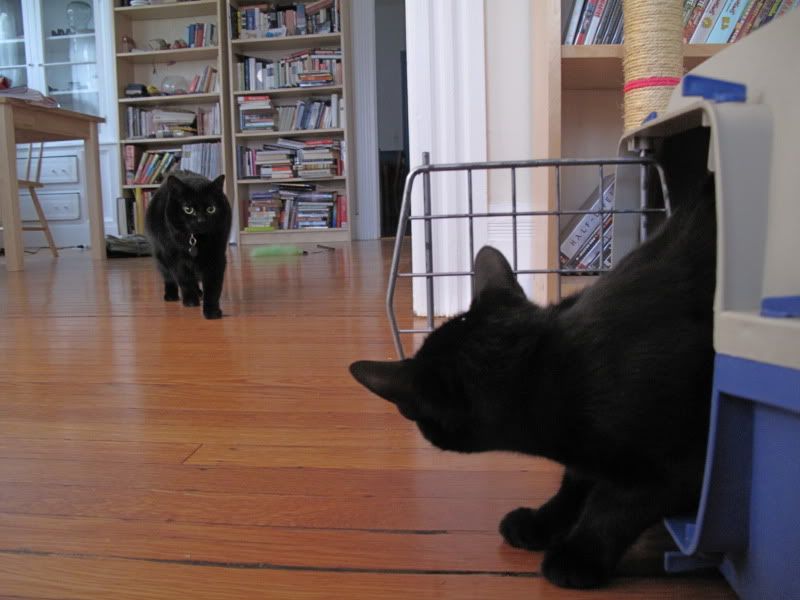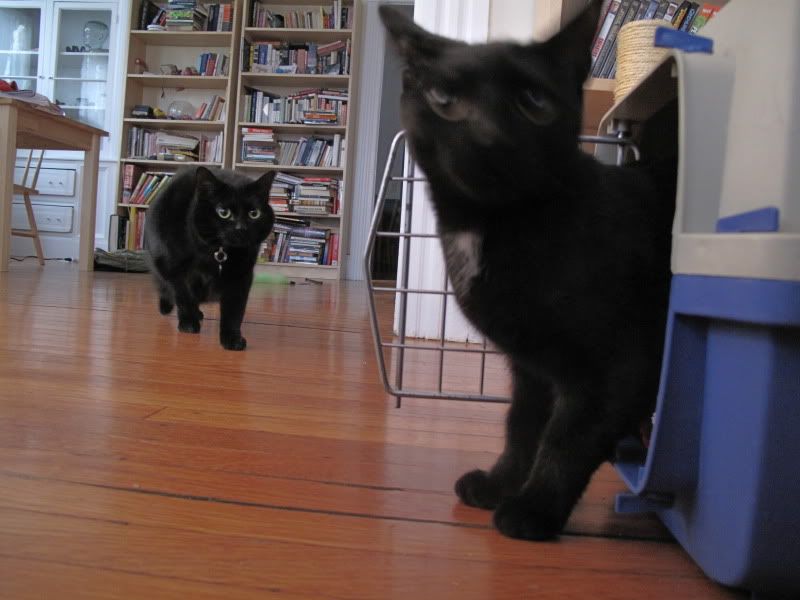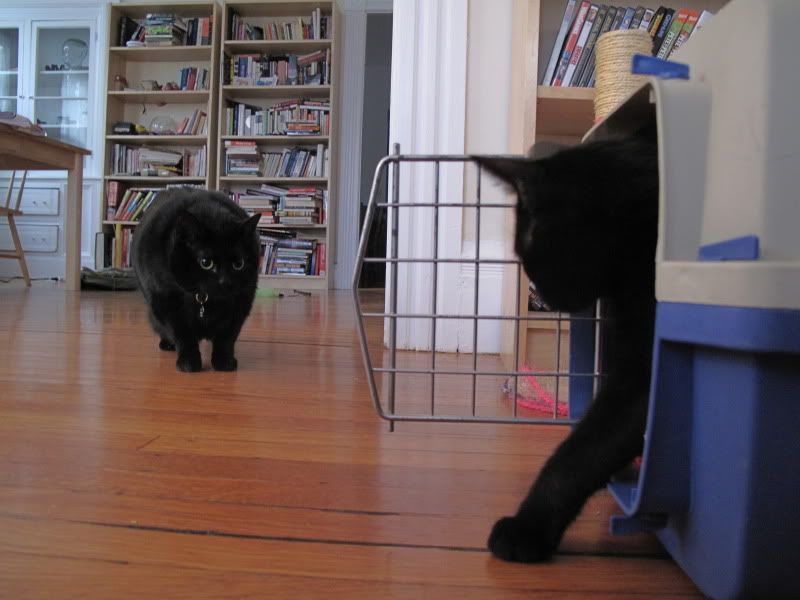 Digby was very brave and hissed a bit but never raised her hackles (incidentally: Ian had never before heard the word "hackles" before. Is that weird?) and kept advancing and attempting contact. Erwin hid 8 feet away in a doorway the whole time, and ran under the bed anytime the kitten got too close. He. Was. Terrified.
Goddamnit that shit's cute.
Number of times Erwin got me while attempting to claw my eyes out/face off as I was trying to hold him and comfort him, half an hour after the TERRIFYING ONE-POUND KITTEN had left?
Five.
Jerk.
Tags: kittehs
Erwin turned two years old today! Happy birthday, Erwin! Look how small he was in his very first post ever! Over the past two years he has gotten like four inches taller, 400 fleas lighter, and remained exactly as mean to Digby. We always intend to celebrate the cats' birthdays, but we never remember. I only remembered this year because it was on my Google calendar. Thank you, Google, for improving my life yet one more time.
To celebrate, this morning Erwin had a latte (he likes his without the espresso – just the steamed milk). Ian makes him a latte every single morning, because he's a crazy cat lady, but I'm generally too lazy to actually steam my milk in the morning, so he's only had two or three since Ian's been in Europe. Then the cats both had a special birthday dinner of sour cream! Yum!
Digby insisted on being hand-fed hers.
Erwin cleaned his plate quickly.
Digby kept poopin around and wouldn't hurry up, and Erwin started getting ideas.
So they traded plates.
Erwin cleaned his plate again, and went back to see if there was any more to steal from Digby.
Then I made tiny little bite-sized cupcakes, which were adorable, and Erwin ate the whipped cream off the top.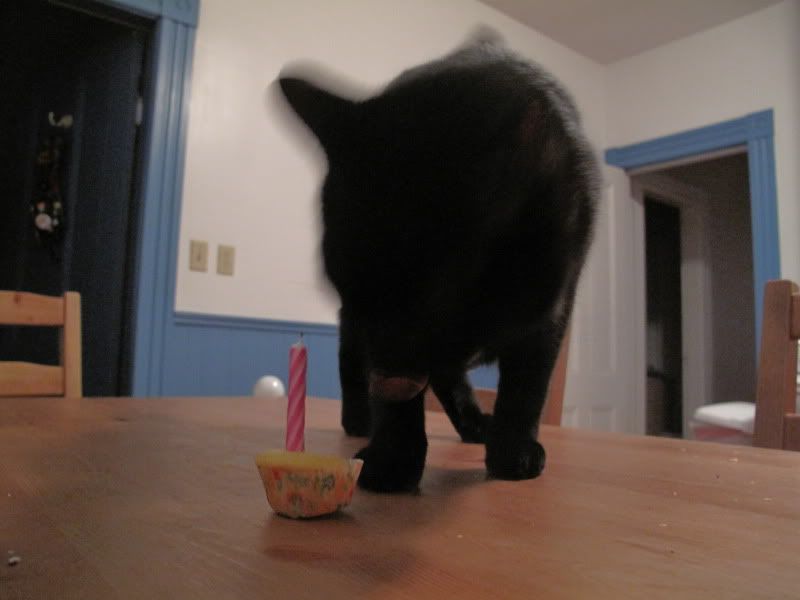 I didn't put this much on his. I probably still gave him a stomachache, but it's his birthday! Doesn't everyone deserve eighteen different types of dairy on their birthdays?
Tags: happy birthday, kittehs
Oh by the way: What Did Jessica Have for Dinner Tonight??
Salami, apple, and brie sandwich! I know, right? But doesn't it look healthy though there on the plate, all green and bright and crisp?
I watched a horror movie tonight in which a woman very gently and sincerely reassured a man, "It's okay. It's okay. We're cutting your arm off."
It was actually pretty great.
Another quote from my television tonight? A designer who said, of the baggy tank-top and fringed bicycle shorts that he had just (apparently seriously?) brought into the world, "A lot of my stuff is not really designed for Middle America, and I don't really care if they don't understand it." Dear designer: We understand fringed bicycle shorts. That's…not really the problem here. Sincerely, Jessica.
What Does Jessica Not Care to Eat, Ever?
Every. Single. Thing. About this. Is awful.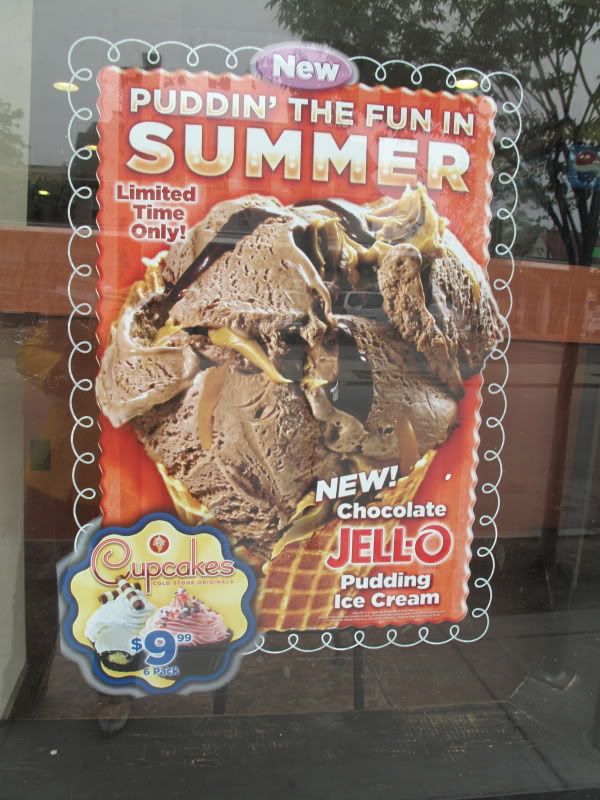 Frankly, though? The super-duper worst part? Is that, as a very fancy major college theatre department publicist, I have to say that the worst part is that someone out there thought that the word "puddin'" was somehow something that should be associated with food. Ugh. Or maybe it's the unnatural, sort of predatorily aquatic nature of the light-brown colored spiky swirls in the chocolate version. Or maybe it's the idea of butterscotch pudding in an ice cream cone. God, I don't know; please stop making me think about it.
Let's us refresh with a cute-cat photo:
Ah. Nice. All better.
Thanks, Erwin!
Tags: advertising, kittehs
OMG Breaking Bad!!! Kind of a cheat, but so much cool stuff that it's forgiven. (Second-to-last episode perhaps even better than last.) I will say no more.
Also, since I know you're going to claim that was a spoiler and you're mad at me for it, here are some pictures of your cats in penance: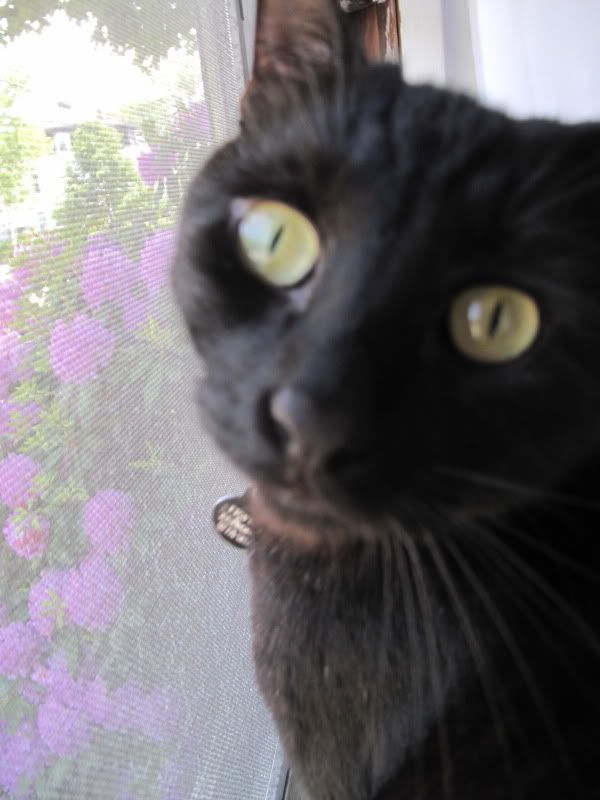 Tags: kittehs